Faces of the Project
See the faces and learn about the team members behind the Joplin Historic Neighborhoods Project.
The Founders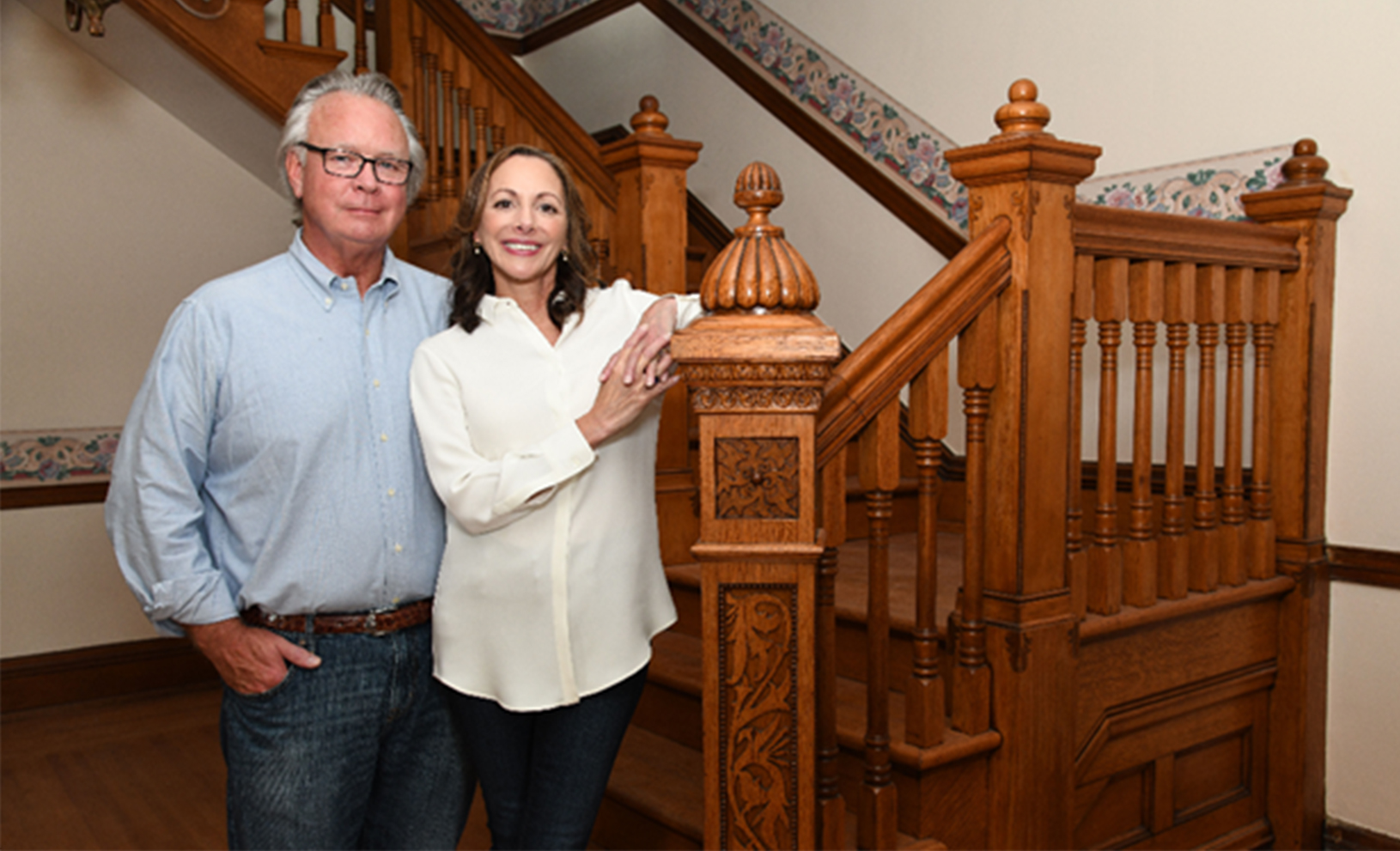 Debra and David Humphreys, pictured at the base of the original oak staircase inside one of the historic homes in Joplin. The Humphreys founded Joplin Historical Neighborhoods in 2017.
When the once-in-a-lifetime opportunity to preserve a piece of their beloved community's history presented itself, Debra and David Humphreys jumped to make it happen. As proud members of the Joplin community, the Humphreys founded JHN in 2017 and funded this charity to preserve and memorialize the history and architecture of Joplin by acquiring, researching, restoring, maintaining, and making available to the public important residential properties located in the Murphysburg Historic District. When the historic homes are restored and fully furnished with period furniture, they will serve as living museums open to the public. The restored historic homes will provide examples of early Joplin architecture and interior design, and will tell the history of Joplin through the stories of some of Joplin's founding families.
The Humphreys also own and lead another quintessential part of the downtown Joplin landscape, TAMKO Building Products LLC, a national building products manufacturer with a large number of corporate offices located in a variety of historic downtown Joplin buildings, only minutes from the current JHN homes being renovated.
In addition to the Humphreys support and investment for JHN, Debra Humphreys is the Founder and CEO of Compass Academy Network, an educational non-profit that provides summer enrichment opportunities for rural middle school students. She has been involved in education for more than 25 years serving as Chair of the Board of Thomas Jefferson Independent Day School in Joplin, Missouri that she and David co-founded in 1993. Debra is a supporter of her alma mater Brooklyn Law School, and she serves on its Board of Trustees. Debra is a member of the TAMKO Building Products LLC Board and also leads the Humphreys family philanthropic efforts in support of secondary and higher education and community enhancement. She is a member of the Board of Directors for the Lafayette House in Joplin, Missouri, a women's shelter offering compassionate and empowering services to heal the effects of domestic violence, sexual assault, and substance use disorders. In addition, she serves on the board of American Southern Homes LLC, a regional homebuilding company operating in the southeastern United States.
David's passion for preserving history led him to invest in the historic homes and the founding of Joplin Historic Neighborhoods with his wife, Debra. David Humphreys is the Chairman and Chief Executive Officer of TAMKO Building Products LLC, one of the nation's largest residential roofing manufacturers, and third-generation leader of the company's founding family. David also serves as Executive Committee Chairman for the Institute for Humane Studies in Washington, D.C., Chairman of the Acton Institute for the Study of Religion & Liberty, and is on the Board of Directors of both the Cato Institute and Thomas Jefferson Independent Day School. He was the former Chair of the Board of Regents for The University of the South in Sewanee, Tennessee. In addition, he serves on the board of American Southern Homes LLC, a regional homebuilding company operating in the southeastern United States.
JHN Team
Brad Belk
Preservation Director & Museum Director
Brad has made it his life's mission to create greater public awareness on the importance of local history. Brad served as the director of the Joplin Historical & Mineral Museums, Inc. for 35 years. To recognize his dedication and contributions to the museum, he was awarded the title of Director Emeritus. In 2017, he was hired as the community historian for Missouri Southern State University and the preservation director and curator of Joplin Historical Neighborhoods, Inc. bbelk@joplin-hn.org 
Crossland Construction
Project General Contractor
Crossland is a trusted name in construction nationwide. With four states roots, the company was the perfect fit for this project. They have proudly joined the JHN historic homes project to lead and manage the completion efforts.
Project Helping Hands
Anne McLaughlin
Marketing Team Graphic Designer
Anne has been a freelance graphic designer and owner of Blue Lake Design since 1999, working in both print and web design. She worked out of the Houston, Texas, area for 16 years before moving to Joplin in 2015, and has had the privilege of working with a wide variety of clients on projects such as books (printed and ebooks), brochures, logos, banners, signage, and web sites. She has worked with small hometown businesses, large Fortune-500 corporations, as well as non-profit organizations and cultural institutions. Before she started freelancing, she worked for both the Museum of Fine Arts, Boston, and the Museum of Fine Arts, Houston, where she created a variety of pieces from exhibition graphics and brochures to signage, invitations, and educational activity books. She was hired in 2017 to design the logo, develop and maintain the website, and create marketing materials for Joplin Historical Neighborhoods, Inc. info@joplin-hn.org
Wendy Wright
Marketing Team Writer/Editor
Wendy has been a writer, editor, and graphic designer for more than 25 years as owner of wrighters, ink. She enjoys getting creative with small and non-profit businesses to help develop comprehensive, clear, and concise marketing materials that will promote their unique products and services. Wendy has been a great contributor helping the Joplin Historical Neighborhoods team to edit the mammoth amount of historical data.
Mark Neuenschwander
Marketing Team Photographer/Videographer
Mark is a commercial and editorial photographer and a lifetime native of the area. He lives a few short blocks away from the JHN project and loves life in Joplin with his wife and two kids. He enjoys collaboration and the creative artist community, as well as being a movie nerd, collector of old vinyl, and lover of coffee and breakfast burritos. Mark joined Joplin Historical Neighborhoods, Inc. in 2017 to visually document the historical preservation process.
Painted Effects Contracting, LLC Preservationist
The father-son duo of Bob and Sam McCarty from Ferguson, Missouri, provided their expert craftsmanship in window and storm window restoration to the JHN historic homes project. Their work began in 2018 when Bob McCarty assisted Bob Yapp*, renowned preservationist and window restoration expert, with a window preservation 'boot-camp' in Joplin.
Windfall Light Stained Glass Artisan
Local Joplin artisan Sam Lopp always had an affinity for art but his interest in stained glass was sparked when he bought a how-to book on the subject in the mid-1970s. Lopp was working as a graphic artist for a local printing business, Whitaker Publishing. He continued in that job while he honed his skills at creating stained glass. Lopp says the JHN stained glass windows were facing a critical period. "Without preservation, the windows would be lost. So I'm excited to restore and rebuild them to their former glory," he says. "This type of project is extremely unique. It is a once-in-a-lifetime project for me."
Renaissance Roofing, Inc.
A few high-profile restoration projects of Renaissance Roofing include the residences of Frank Lloyd Wright, David Adler, HT Lindberg, Howard Van Doren Shaw, Weber and Groves, and Eames and Young. Over the past 25 years Renaissance Roofing, has restored more than 1,000 historic roofing systems nationwide, utilizing a variety of materials including slate, copper, wood, metal, and tile.