Murphysburg Historic District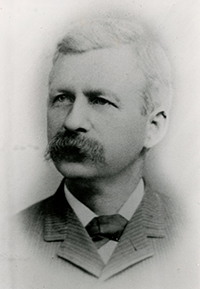 Joplin's three historically significant homes are located in the Murphysburg Historic District. During the early 1870s, Patrick Murphy, William P. Davis, C. E. Elliott, and William Byers laid out a 40-acre tract west of Joplin Creek and established the township of Murphysburg. By the spring of 1873, the community of Murphysburg would relinquish its name and merge with the adjacent Joplin township. The two mining communities became known as Joplin.
The Murphysburg Historic District was listed on the National Register of Historic Places on May 15, 2015. The Schifferdecker, Zelleken, and Rogers properties are part of the 185 listed contributing structures covering a 22-block region. The homes located in this historic neighborhood represent a variety of architectural revival styles, but most significantly is the 1890s Victorian Era. During that decade, the Joplin community was transformed into a thriving urban center.
422 South Sergeant Avenue
Charles Schifferdecker Home
Reminiscent of his homeland, Charles Schifferdecker built an inspired Rhine Valley German-style castle in 1890.
Charles Schifferdecker was born on August 28, 1851 in Baden, Germany. At the age of 18, he left his homeland and boarded a ship for America. He worked at a brewery in St. Louis, Missouri, before relocating to Baxter Springs, Kansas. Schifferdecker gained employment working for another German immigrant, Edward Zelleken, in his brewery business. He was a founding member of the First National bank, serving as its president for twelve years. He served on the Joplin City Park Board and two terms on the Joplin Board of Education. He was a member of the Joplin Turner's Society and Joplin Club. He was very generous to his community by donating property for the building site of the Scottish Rite Cathedral and to the city of Joplin, which today is known as Schifferdecker Park. Schifferdecker died at his home on October 30, 1915.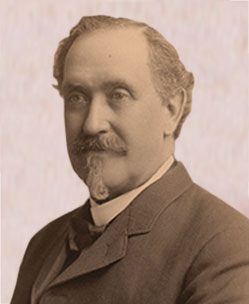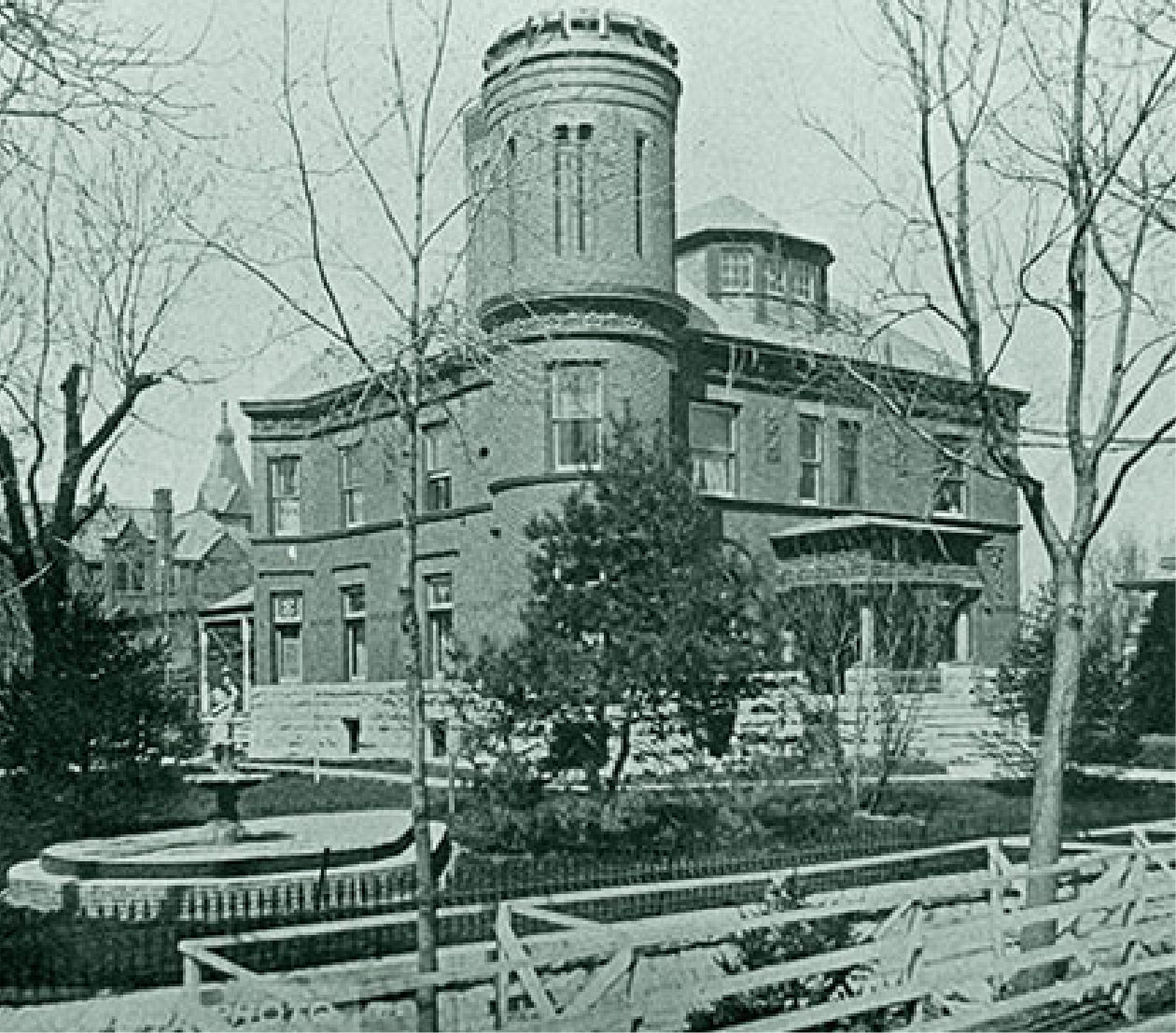 Reminiscent of his homeland, Charles Schifferdecker built an inspired Rhine Valley German-style castle in 1890. The two-story Richardson Romanesque-styled house incorporates a raised rough-faced, large block limestone foundation, red brick cladding, and a steep hip roof. A dominating three-story circular tower defines the southeast corner. A polygonal dormer juts out from the hipped roof. Exterior brick chimneys rise on the north, south, and west elevations. Decorative floral terra cotta bands add ornamentation to the first story and roof line. A distinctive belt course separates the first floor from the second. The front entrance porch consists of four short pinkish-red granite columns resting on limestone piers. The columns are accentuated with decorative floral terra cotta capitals. The entrance is flanked by double recessed, brick arched windows. Schifferdecker brought a craftsman from Germany to enhance the unique façade. They incorporated hops, the cultivated plant that is an important ingredient for brewing beer, into the terra cotta relief panels.
406 South Sergeant Avenue
Edward Zelleken Home
Edward W. Zelleken purchased and built a three-story Queen Anne-styled home in 1893.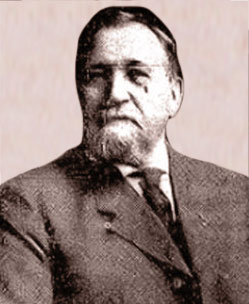 Edward Werner Zelleken was born on the first day of 1839 in Altdorf bei Nurnberg, Germany. He arrived in America in 1860. After stops in Cincinnati, Ohio, Sedalia, Missouri, and Baxter Springs, Kansas, he permanently relocated to Joplin in 1881. The following year he built an impressive red brick residence at Ninth and Pearl. His Joplin professional business career evolved around lead and zinc mining, banking, and real estate. Zelleken was a major stock holder in the Interstate Grocery Company, vice president of Miners Bank, and president of Galena Lead & Zinc Company. Zelleken died at his home on Sergeant on November 29, 1919.
Charles Schifferdecker's business colleague, Edward Zelleken, purchased the northern corner of Sergeant in 1890 and built a three-story Queen Anne-styled home in 1893. The façade is composed of a rough limestone foundation and red brick cladding. Incorporated into the plan is an asymmetrical façade and a variety of materials utilized in the building's composition. This delightful Queen Anne design showcases a steeply pitched, hipped roof, with multiple irregular shaped gables, cutaway bay windows with pressed metal cladding, and three wooden wraparound porches. Each porch features delicate spindle-worked support columns, grouped in tandem. The home's silhouette boasts three chimneys with bulbous planters.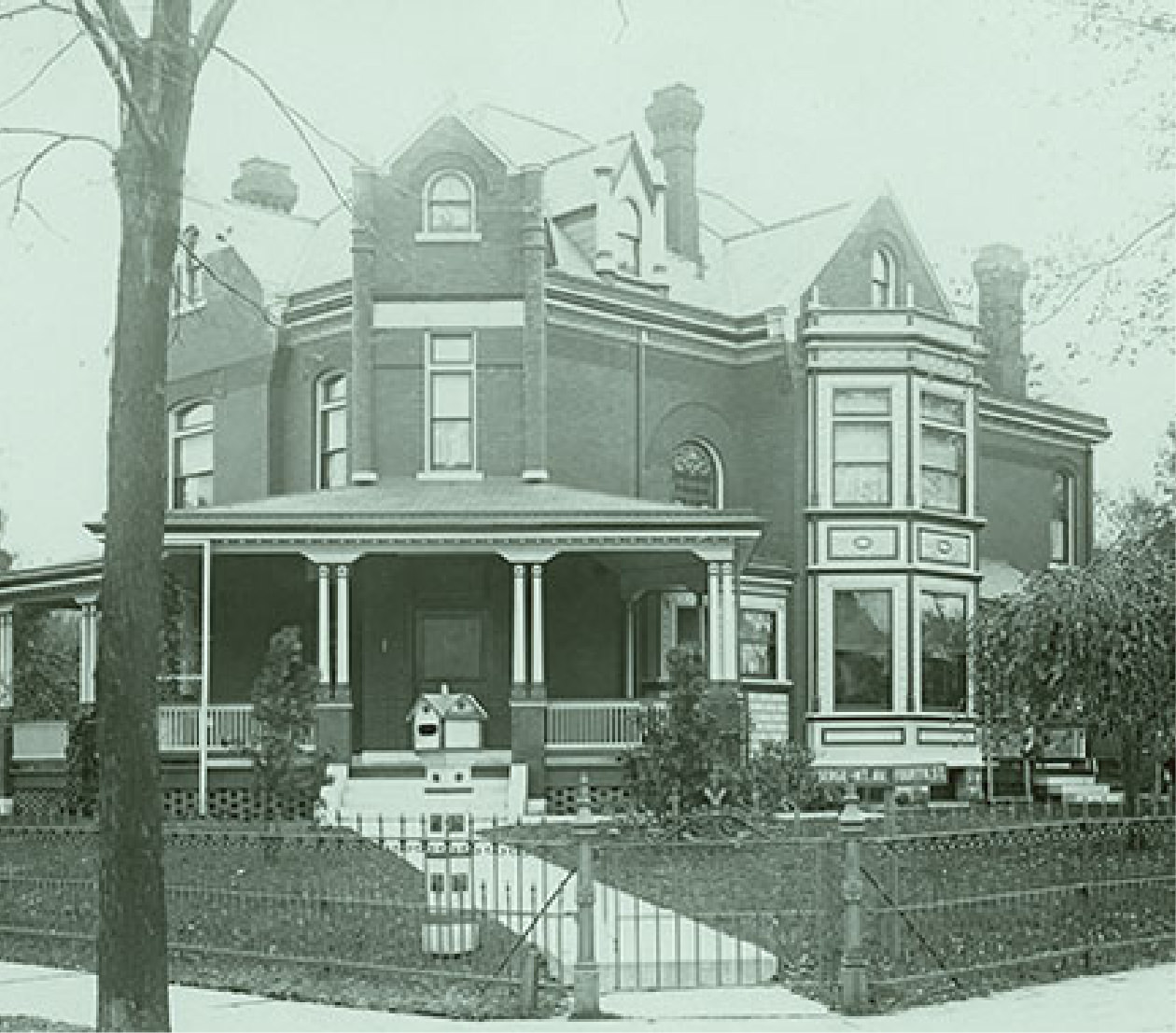 623 West Fourth Street
Alfred Rogers Home
Rogers built a $20,000, three-story Neoclassical Revival home on the corner of Sergeant Avenue.
Alfred Harrison Rogers was born in LeClaire, Iowa on February 2, 1858. He graduated in 1878 from Harvard University, later studied law, and was admitted to the bar at Olathe, Kansas. After periods of employment at banks in Kansas City and Springfield, Missouri, he relocated to Joplin during the late 1880s and constructed a street railway line between the two lead and zinc mining communities of Webb City and Carterville. This interurban line expanded into a multi-million-dollar company known as the Southwest Missouri Railroad, linking the communities of Carthage, Missouri, Galena, Kansas, and Picher, Oklahoma. Rogers helped establish the Interstate Grocery Company where he became vice president and served as a director on the First National Bank board. In 1910, Rogers purchased controlling interest in The Joplin Globe. He became the president of the newspaper, retaining that position until his death. Rogers died on March 7, 1920 in Los Angeles, California.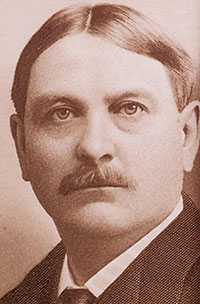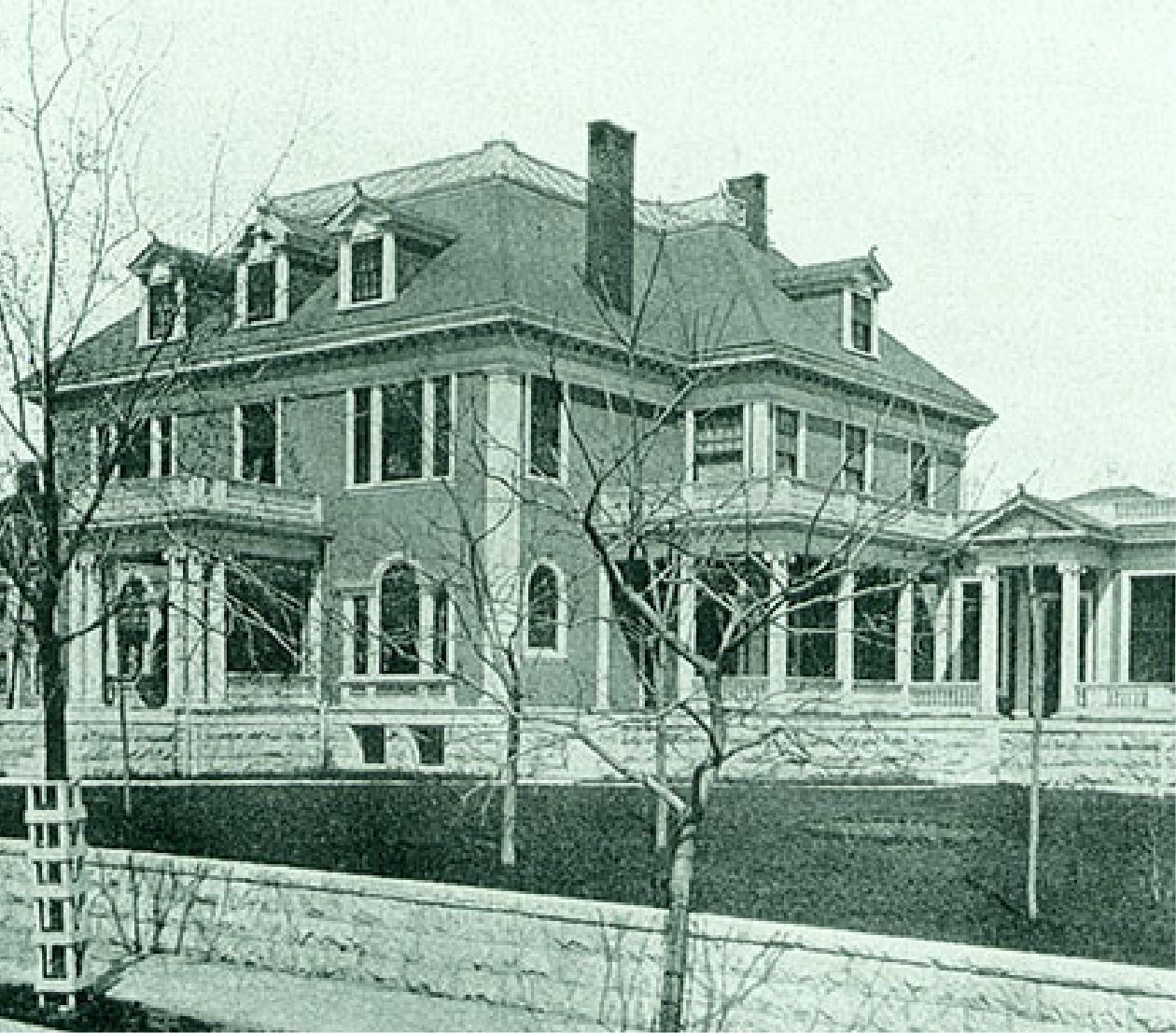 In 1899, Charles Schifferdecker sold two lots in the Moffet subdivision to Alfred Harrison Rogers. One year later Rogers built a $20,000, three-story Neoclassical Revival home on the northeast corner of Sergeant Avenue. The house has a limestone foundation and wood cladding. The busy front façade boasts an elevated one-and-one-half story porch with grouped fluted Ionic columns and a steeply hipped roof with two brick chimneys rising above the roof line. Impressive modillions and a dentil molding embellish the roofline. Palladian windows are symmetrically located on either side of the first-floor entrance. An addition to the house is a single-story cottage/servants' structure. This appendage mimics the decorative features of the main residence.